You are here: Services > Ovex Well completion services
Ovex Well completion services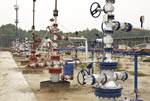 Well completion is a critical and complex stage in the oil and gas well construction process. It requires the engineer to select, rationalize and integrate a large number of design elements in a systematic process that begins with penetrating the reservoir, followed by installing, cementing and perforating the casing. Finally the well completion string is installed, allowing oil and gas to flow to the surface. Once an oil and gas reservoir is tested and the oilfield is deemed ready for commercial development, drilled wells will call for well completion
for optimal commercial production .At Ovex the core objective of well completion is to protect the oil and gas reservoir and extend the life of oil and gas production to generate an optimum and cost-efficient completion for companies in the Nigerian upstream oil and gas market.
Our Capabilities include coiled tubing, plug setting and milling, fluid pumping, nitrogen transport, flowback equipment, pressure control services, tanks and a wide range of ancillary rental equipment such as cranes, compressors, valves , gas busters.overall project design, equipment selection, accessory material preparation ,project and operation reporting.

We are prominent in the market for supplying fully integrated "Completion Systems," which package and integrate equipment, products, processes, procedures and programs to supply bespoke products and services.

Our role is to rationalize and to combine the most suitable components available in the market, add our specialist expertise and experience, develop procedures and processes and package them to make a Completion System that meets our clients' specific needs.
Our Completion workshop activities include:
Starting Production Flow

Assembling and torque up the completion items to pup joints to enable the rig to handle it and run it on the wells

Setting Production Casing

Checking the compatibility of the completion material with the completion program provided by the client

Conducting Drill Stem Test

Installing Production Tubing

Pressure testing the assembled completion items, for checking and verification of the assemblies before running them on the well

Installing the accessories that might be required for the completion items

Beam Pumping Units

We have established well completion project teams in each region in the Nigerian upstream oil and gas sector, employing a supply of experienced and qualified completion engineers we can supervise all types of completion and Provide technical support with full supervision from our engineers for the rig in terms of completing the wells, we render all our services in order to provide our customers with localised, opportune and high-quality services

Our well completion supplies, technology and services include: wellheads, well completion strings, sand control, and well fracturing and acidising., water injector wells, Dowel completion strings, High pressure and high temperature wells, Oil and Gas wells, Side Pocket Mandrels, Gas Lift Valves ,Packers, Low Pressure Well heads